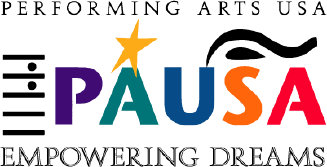 PAUSA's Founder and Executive Director, Catherine Jones, grew up in the North Lawndale area of Chicago. After graduating from George Washington Collins High School located in the heart of the community, she attended Northeastern University where encore performances in plays and productions there and at her community church engendered a realization that performing arts were her passion.

Ms. Jones' other passion was working with at-risk youth. Through teaching theater grades K thru 8th, and volunteering with numerous community social service agencies, she assisted youth affected by domestic violence and drug abuse. During further studies at Columbia College, graduating from Phoenix University, building websites, and writing a memoir Ms. Jones realized the positive impact involvement in the arts had on the troubled lives of the young people she mentored.

From Ms. Jones' two passions, Performing Arts USA emerged. Providing instruction and support in all genres of the performing arts: dance, music, vocals, acting, and stagecraft etc PAUSA reaches the at-risk youth in the Chicago urban and suburban areas.

Through Catherine Jones' vision, and the efforts of the PAUSA teaching staff, youth, ages 5-24 have a safe, positive environment to explore their abilities, grow in confidence, and simply shine.
Catherine Jones--Founder / Executive Director
A Chicago native raise up on the city Southside, Ms. McCune know firsthand the challenges youth are face with while growing up in a poverty stricken environment. Volunteering at various outreach social service agencies including performing arts organizations led Ms. McCune to the realization that performing arts is an essential element toward to the progression of our children creativity.

Ms. McCune took her passion to the State of Florida where she implemented her skills as an Executive Administrator with a Performing Arts Organization for 10 years.

PAUSA welcomes Ms. McCune as the Event Coordinator.
Nicole McCune-Event Coordinator
Meet our Empowering Staff…
Ms. Sabrina Williams is simply inspiring. When Ms. Williams was 10 years old, she moved to Lawndale from the Inglewood area. She graduated from Manley High School, and attended Kennedy King College, and Truman College. Her four children participated in the America SCORES program in elementary school so she became involved also. Ms. Williams was part of the program from 2001- 2011. Later, she became a part of the NCLB (No Child Left Behind) as chair for 13 years and became a local school council member from 1998- 2010.

Including; receiving an award "Be A Hero" from Dollar General Corporation; this award is given to people who have made a positive impact in their community.
Her passion to make a difference combined with her love of singing and directing has brought Ms. Williams to PAUSA as our vocal coach.

PAUSA welcomes Mrs. Williams as the Vocal Instructor.
Sabrina Williams--Singing Instructor
Mrs. Eva Edwards was introduced to the wonderful world of the arts at the age of three through dance, music, and singing lessons. She also competed in, and successfully won oratory contests. Although she participated in various programs from visual arts, track and field, and volleyball throughout the years her passion always led her back to performing arts. While attending The Lawndale Community Academy located on Chicago's Westside, she participated in modern dance that led her to perform in with the Lawndale Academy Dancers. The group's performances created such a buzz they were invited to perform on NBC Television Show "Kidding Around".

After graduating from Lawndale Academy, she continued to participate in drama programs at Providence St. Mel High School and John Marshall High School, receiving trophies and providing encore performances in musical theatre. Mrs. Edwards then brought her talent to Harold Washington College, including Wilbur Wright College continuing to fulfill her everlasting passion in performing arts. Although Mrs. Edwards has retired her dancing shoes, she still enjoys being a part of the performing arts arena.

PAUSA is pleased to have Mrs. Edwards as the Secretary.
Eva Hudson - Edwards--Secretary
About Us
Dr. Larry E. Tabron-Co-Founder / COO
PAUSA's Co-Founder and Chief Operating Officer, Dr. Larry E. Tabron, grew up in the Austin area of Chicago. After graduating from Proviso West High School, he enlisted in the military where he served his country. Returning home from the armed forces he began working at Sony Records where he obtained knowledge of the music industry. While working at Sony Records he worked with many artists such as: Sparkle, KC and JoJo, Scarface, Master P, and many others. Shortly after working for Sony Records Dr. Tabron continue his passion through advocating throughout the communities to underserving youth.

Dr. Tabron wanted to make a difference toward placing youth on a positive career path, he co-founded Performing Arts USA (PAUSA).

His passion is to place a positive impact with youth that also lead him to Midwest Theological Seminary where he proceeded with a Bachelor and Master degree in Christian education. After graduating, Dr. Tabron begin implementing what he erudite to youth at schools, neighborhood social services, the streets wherever Dr. Tabron can shed light and bring awareness.

Dr. Tabron know far too well implementing morals including; education creates a positive outlook regardless of life challenges. From the results of Dr. Tabron passion, expertise, advocacy throughout the Chicagoland communities Dr. Tabron received a Humanitarian Award and Stopping the Violence Honorary Doctoral Degree.

Dr. Larry E. Tabron is elated to implement his passion, expertise, and advocacy to youth through PAUSA, by staffing empowering instructors, caring, knowledgeable, and professional staff, and high value programs that will assist toward minimizing negative results for the future our youth.
Tiana Nicole resides in Chicago, Illinois where she attended the College of Technology, obtaining her degree in Computer System Technology during her earlier years. Upon discovering she displayed the talents of a Jill-Of-All trade, the serial- preneur proceeded to earn both a Bachelor's of Science in Psychology, and a Master's of Science in Business Management.

Tiana quickly discovered that writing was something she could do, and she could do it well. From creating fiction for the wildest imaginations, to becoming Editor-in-Chief of her very own women empowerment publication Konect Magazine, she avidly consumes the craft of writing.

The multi-genre writer published her freshman debut novel Deceitful Temptations in 2014 under her private label Triple Pearl Productions. Her sophomore novel titled the Sacred Bond of Matrimony was released in 2015 alongside her junior novel Vengeance is Sweeter than Khandy , as a part of a double release. She decided not to stop there by switching gears and graduating from producing thoroughbred fiction to empowering self-help by debuting her senior release, You're Not the Boss of Me, a women empowerment book penned to assist women with living their lives fearlessly, kick-starting a nationwide female empowerment movement.

As an accomplishment to her literary achievements, in 2014 she was nominated for book of the year award for her breakout novel Deceitful Temptations by PEN'Ashe Magazine.

PAUSA welcomes Tiana as Literary Instructor
Tiana Hymon - Literary Instructor