The Mission
Performing Arts USA is to promote, support, empower and facilitate the development of Chicago-area disadvantaged and underserved youth and young adults in the pursuit of the performing arts.
Self-Discipline
Self-Motivation
Leadership Skills
Academic and Communicational Skills
Student, Age 6
"Performing Arts USA helped me stop being angry all the time. When I go to Performing Arts USA it makes me happy. I enjoy singing and I sing in front of my mother. It makes her happy."
Student, Age 12
"Before Performing Arts USA, I used to run away from home because I was bored. PAUSA helped me to get along with other people and to sing. I no longer run away from home and I make my grandmother happy."
Student, Age 17
PAUSA is giving me opportunities I could have never imagined. I no longer participate in street activities. PAUSA has placed me on a positive path by giving me hope, support, something great to look forward too. Thank you PAUSA for saving my life…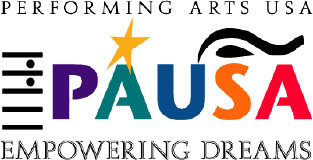 Programs
Comprehensive training and support in dance, music, vocals training, theatre, costuming, stage make-up, and stagecraft, touring etc for youth ages 5-24
Impact
PAUSA has seen reduction of negative life choices in participating youth. The benefits for at-risk youth involved in the performing arts include improvements in:
Self-Confidence
{Copyright (C) 2017 Performing Arts USA (PAUSA). All Rights Reserved} Created by: Catherine Jones